What a thoughtful piece by Beverlee Brojack (25-year textbook industry veteran and author of Tyranny of the Textbook: An Insider Exposes How Educational Materials Undermine Reforms; Rowman & Littlefield, 2012)) about the importance of teachers driving the new curriculum that the new Common Core State Standards will require. Brojack suggests that much of school curriculum is textbook-driven, and that teachers–in the form of adoption committees–have the power to impact the textbook market so that the materials offered help them to implement the new standards with uniformity and fidelity. Otherwise, schools will get old textbooks dressed up to look like new, but only superficially so. Brojack is providing a pathway to positive action that seems feasible and possible, if enough schools take it up. — Kelly Searsmith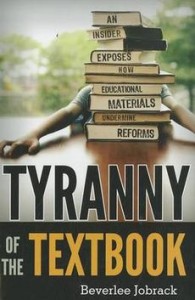 by Beverlee Brojack / Education Week / 9 August 2012
American educators have a love-hate relationship with textbooks. For some, textbooks provide a comprehensive curriculum in which content requirements are developed in a systematic and organized way. Textbooks can give teachers ideas for sequencing, presenting, and assessing content, skills, and concepts. New teachers often depend on textbooks. For others, textbooks represent scripted, uninspired lessons that turn teachers into slaves and strip them of their creativity with a one-solution-fits-all approach. For this group, even intelligent, published education researchers lose their credibility when they become affiliated with a commercial textbook publisher.
Most states have committed to implementing the Common Core State Standards in English/language arts and mathematics, but whether textbook publishers will help, hinder, or neutralize this effort is an open question.
The release and adoption of the common standards have inspired two major initiatives. The first is to educate teachers about the expectations of the new standards and how schools will have to change to meet the standards. States, school districts, professional-development companies, and educational organizations provide webinars, in-service sessions, and courses on implementing the common core. But most of these don't include any discussion about curriculum. Instead, they focus on educating the 3.2 million teachers as if they were individually responsible for revising their curriculum.
Image Source: publisher