The big draw to the article below is an infographic on The Millenial Teenager, produced for OnlineSchools.com. The graphic is meant to suggest how changing media use has had a significant impact on the ways in which contemporary generations engage intellectually and socially–the implication being that education must reflect these changes in order to appeal to them. — Kelly Searsmith

by Sam Laird / Mashable Tech /2 May 2012
Is tech saturation good or bad for the modern teenager?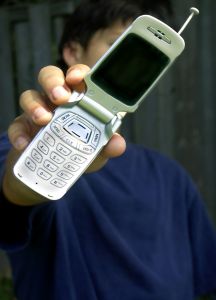 Arguments can be made either way, but there's no debating that today's teens are more wired than ever. And digital permeates the lives of young people in general, too.
People aged 18-34 have an average of 319 online connections, according to a recent Pew Research Center study. That's compared to an average of 198 connections for the 35-46 group, and the numbers continue to decrease from there.
Pew also recently reported that 63% of teenagers text message with friends on a daily basis, compared to 39% who speak on the phone daily and just 35% who interact face-to-face outside of school. Other research has found that text-happy teens send more than 100 messages per day.
But the digital revolution comes with drawbacks.
Image Source: stock.xchng